Queens -- Central Region
(Forest Hills, Rego Park, Corona, Elmhurst, Jackson Heights, East Elmhurst, LaGuardia Airport and Rikers Island)
Forest Hills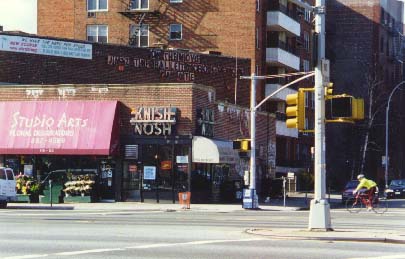 Forest Hills is where I live. It's a quiet residential neighborhood with one street (Austin Street) that's kinda hopping late at night, though it's hardly Greenwich Village.
Queens Boulevard bisects the town neatly; south of the Boulevard is an elegant mock-Tudor village, built around the turn of the century, with castles and turrets and village greens. It's very impressive to look at, and also way out of my price range. Helen Keller was one of the original residents of this community; Geraldine Ferraro also raised her family here (and may still live here -- I'm not sure).
The Tudor Village is known as Forest Hills Gardens, and not all the famous Forest Hills residents are from there. Paul Simon and Art Garfunkel lived near, but not in, the Gardens (if the information I have is correct). And the Ramones -- the coolest four guys ever to walk the streets of Queens -- all grew up near where I live, in the apartment buildings north of Queens Boulevard. Yellowstone Boulevard is the main thoroughfare here, and it's all residential, just one apartment complex after another.
Forest Hills used to be the site of the U.S. Open tennis tournament, until the tournament moved to Flushing Meadows-Corona Park. Both the old (Forest Hills) and the new (Flushing Meadows) tennis courts are open for business through the year, which means you can show up with a racket (if you can get an appointment) and play on the famous courts where so much history took place. The old tennis stadium has also been used for concerts, and Bob Dylan played his second-ever electric show there, after his first at the Newport Folk Festival. According to reports, he didn't even get booed in Forest Hills.
Forest Hills is ethnically mixed but largely Jewish (Joey Ramone's real name is Jeffrey Hyman), Catholic and Asian. Many Russian-Jewish immigrants have recently moved into the northernmost part of Forest Hills, turning 108 Street south of the Expressway into a raucous Eastern European shopping bazaar. Come on a Friday afternoon, and you'll get jostled and bumped until you think you're on line for toilet paper in the center of Moscow. Saturday is the shabbot (the sabbath) and all is quiet.
Rego Park
The town next door to Forest Hills is Rego Park -- the name means "Real Good Park" and was coined by a realtor. Rego Park was the home of Vladek Spiegelman, the exasperating hero of Art Spiegelman's great comic book novel, Maus. Much of the conversation depicted in Maus takes place in the Rego Park house, and a small map of the town is on the back cover of the book.
Corona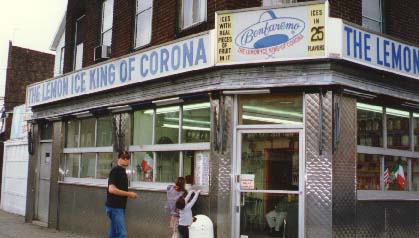 Corona used to be largely Italian (Martin Scorsese was born here) and now houses several Hispanic communities. Dominicans and Colombians predominate, along with Puerto Ricans. The town is located on the West side of Flushing Meadows Park, across the way from Flushing, and the photo on the previous page of me and my son walking back home from Shea Stadium was taken on a side street in Corona.
There's a lot of fun street life in Corona, especially on summer days. I remember once going to a street fair here and persuading my daughter to purchase an orange shaved-ice by saying "naranja" to the Hispanic guy working the cart. Kids all around her were ordering that way -- but the guy couldn't understand what on earth Eliza was trying to say, until she gave up and said "orange!"
Corona is just north of Forest Hills. Paul Simon wrote "Me and Julio Down By The Schoolyard" about this town:
Well Mama Pajama rolled out of bed
and she ran to the police station
When Papa found out he began to shout
And he started the investigation
Now I'm on my way, I don't know where I'm going
I'm on my way, I'm taking my time but I don't know where
Goodbye to Rosie, the Queen of Corona
Singing me and Julio down by the schoolyard
The best frozen ices I've ever had are at the Lemon Ice King of Corona on 108 Street. They're made with fresh fruit. I always stop there with the kids when we walk to Mets games ... mmm ....
Elmhurst
Elmhurst is the home of Queens Center, a rather wan shopping mall located at the intersection of the Horace Harding Expressway and Queens Boulevard. There isn't really much of a community feeling in Elmhurst, and I can't lie to you and say this is a great shopping mall either. But it's probably the closest thing Queens has to a common meeting point -- it's accessible to everyone, and is situated right in the middle of the borough, so everybody comes by Queens Center once in a while.

Did you ever see the Eddie Murphy movie Coming To America, in which Eddie and Arsenio Hall come to my favorite borough looking, literally, for women eligible to become queens? A McDonald's imitation called McDowell's was one of the focal points of that movie, and the scenes at McDowell's were actually filmed at the Wendy's pictured here.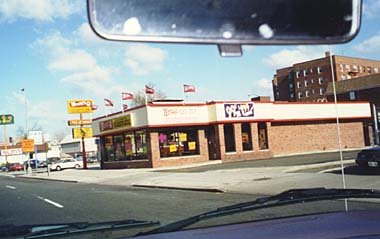 For those of you who don't like Wendy's, there's also a White Castle nearby, and there's a Taco Bell Express in the food court at Queens Center. However they don't have green sauce there, so I buy my Taco Bell burritos in Flushing.
Jackson Heights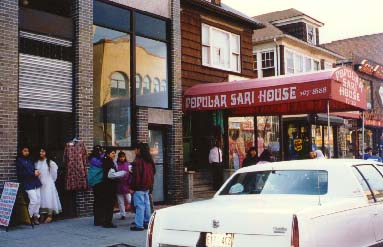 Jackson Heights is the Indian/Asian part of town, and has a large Hispanic population (a spillover from Corona) as well. Maggie and I come to the corner of 37th and 74th for Indian food a lot, and then we like to take a walk looking at the sari shops and spice stores. There are a lot of Indian doctors in New York, and Maggie once cracked up when she saw that all the five-and-ten stores sell stethoscopes in Jackson Heights.

Around here you can rent "Pulp Fiction" in Hindi, Punjabi or Urdu. Or you can just do what Maggie and I do in Jackson Heights ... eat, then eat some more.
East Elmhurst
Many people who live in Queens have no idea that there is a town called East Elmhurst, which is actually closer to Jackson Heights than to Elmhurst. I only found out it existed when I saw Spike Lee's film Malcolm X and then went searching for the house he lived in near the end of his life (the house that was burned down by Malcolm's enemies). I finally found the address in this quiet residential community near LaGuardia Airport. Malcolm obviously brought his family here to be left alone, and it's sad that he did not succeed.
LaGuardia Airport
It's also sad that a popular beach, North Beach, was completely eradicated to make room for this airport, named after New York's colorful and popular mayor Fiorello LaGuardia. Here's what North Beach looked like back in the days: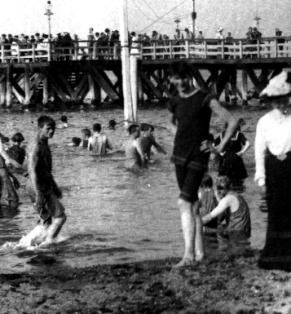 LaGuardia Airport is smaller than Kennedy, and is used more often for shuttles and domestic flights. Here's a plane landing over Flushing Bay -- I took this picture while getting gas at the Sunoco station on Grand Central Parkway.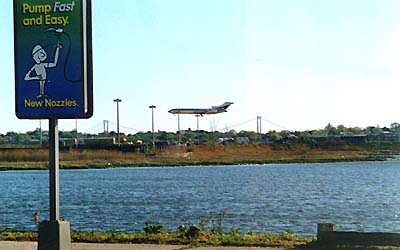 Riker's Island
Most people only get a good view of Riker's when taking off or landing from LaGuardia. This is where the bad boys go when they get caught.

Queensboro Ballads
by Levi Asher