Flushing Meadows-Corona Park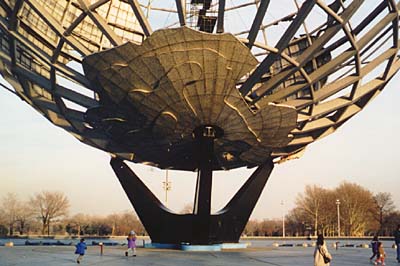 Many people don't know this, but Flushing Meadows-Corona Park is the coolest park in New York City.
Manhattan residents, of course, are snooty about their beloved Central Park, and I can't deny that Central Park has its good points. Brooklyn has Prospect Park and the Bronx has Van Cortlandt, and all of these parks have beautiful grasslands and lakes and trees. But if you're interested in people, come to Flushing Meadows on a summer afternoon.
You'll see an explosion of immigrant life that'll bring tears to your eyes. Two completely separate ethnic communities, the Asians of Flushing and and the Hispanics of Corona, erupt into noisy activity here every summer day, and there's more pure joy and happiness visible here -- laughing children, riotous ball games, strolling lovers -- than you'll ever see in Prospect or Central Park. The immigrants are largely first-generation here, and so you see ways of life that are not American. The two games the young men play are cricket and soccer; I've never seen a game of football or softball here, though I did recently see a group of uniformed young Korean women playing a very serious game of ultimate frisbee (don't ask me to explain -- I only observe). Groups of karate students in white robes practice leaps and twirl ninja weapons. Pushcarts sell anything you want, as long as you accept that it's nothing you ever heard of. You will occasionally see an entire roasted pig on a tray atop a pushcart -- half-carved, but with that familiar punch-drunk smile on it's crispy face.
I take my kids there on weekends, and we're often the only non-Asian/ non-Hispanic people in sight. The park is nowhere near as well-kept as the more 'socially acceptable' parks in Brooklyn and Manhattan, and maybe that's why most Queens residents don't come by. But they should, and I think if they started coming they wouldn't stop.
There are a couple of lakes on the south end of the park, and you can rent a boat, or roller skate around them, or even try to catch some fish. In the center of the park is the coolest outdoor sculpture in New York City, 'The Globe.' It has been featured in several hiphop videos and on the covers of several albums including the Beastie Boys' Licensed To Ill, Craig Mack's Project: Funk Da World, and of course Levi Asher's gentle folk-rock outing, Queensboro Ballads. The Globe was built for the 1964-65 World's Fair, along with several other strange and futuristic (now rotting) structures that give the park it's unique otherworldly appearance -- an appearance that was used to advantage in the film of The Wiz, which turned these structures into an urban version of Oz.
The '64-'65 World's Fair took place twenty-five years after the first World's Fair, which happened in 1939-40. The park was largely built for the '39-'40 fair, though most of the buildings date from the '64-'65 event.
The U.S. Open Tennis Tournament is played in the Louis Armstrong Stadium at the north end of the park every summer (it used to take place in Forest Hills). That stadium is south of Roosevelt Ave., and north of Roosevelt is Shea Stadium, home of my favorite baseball team, the 1986 World Champion New York Mets. Yeah they suck lately ... but I've still got my videotapes of the sixth and seventh games of the '86 World Series to keep me happy, or to entertain visiting friends from Boston with.
Queensboro Ballads
by Levi Asher