Queens -- South West Region
(Maspeth, Ridgewood, Ozone Park, Kennedy Airport and Jamaica Bay)
Maspeth and Ridgewood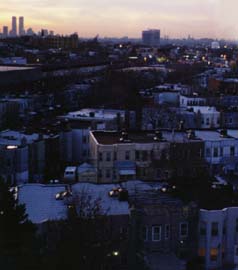 Maspeth is where I always imagined Archie Bunker to have lived, though I don't think "All In The Family" ever said for sure. These are humble white-bread neighborhoods, nothing fancy. Catch an old episode of the show on late-night TV and you'll get the idea.
Ozone Park
Ozone Park is now famous as the home of gangster John Gotti, who throws a big street party every Fourth of July. The neighborhood is largely Italian, and everybody loves John Gotti around here.

Jack Kerouac moved here with his family while he was attending Columbia University. The old-fashioned family from small-town Lowell, Massachusetts never felt comfortable in the busy streets of New York, and Kerouac wrote often about this, especially in his first novel, The Town and the City, although in this fictional account the family moved to Brooklyn rather than Queens. I recently found the house he lived in, and here it is:
No wonder they hated it! The house is on an isolated corner on the busy Cross Bay Boulevard. The Kerouac's should have moved to Forest Hills or Corona, or at least to a quieter house farther south in Ozone Park. But then of course the Kerouac legend may never have taken root.
Kennedy Airport
This is a huge airport, and dominates the entire region of South-Central Queens. Watch Martin Scorsese's great film Goodfellas for an idea of life in the vicinity of Kennedy Airport, especially among the gangsters drawn to it for the criminal possibilities it offers. The main character in the film (the guy played by Ray Liotta) actually lived and ran a nightclub in Forest Hills, but the airport is the main attraction to all these guys.

The airport was known as Idlewild until it was renamed for the late President.
Jamaica Bay
The airport dominates the eastern edge of this bay, but there's a lot of marine activity here as well. There's a beautifully kept nature preserve on the biggest island in the bay, where you walk on quiet dirt paths and listen to the sounds of thousands of birds against the hushed silence of the Bay. The Bay is very much alive with nature, and the numerous bridges between the Rockaway Beach peninsula and the mainland are always crowded with fishermen.

Queensboro Ballads
by Levi Asher