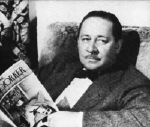 I had just dozed off into a stupor when I heard what I thought was myself talking to myself. I didn't pay much attention to it, as I knew practically everything I would have to say to myself, and wasn't particularly interested.
Chips off the Old Benchley
It took me fifteen years to discover/ that I had no talent for writing,/ but I couldn't give it up because by then/
I was too famous.
Robert Benchley
Robert Charles Benchley, b. Worcester, Mass., Sept. 15, 1889, d. Nov. 21, 1945, was a humorist, drama critic, and film actor. His whimsical sketches, collected under such titles as Of All Things (1921), From Bed to Worse (1934), My Ten Years in a Quandary (1936), Inside Benchley (1941), and Benchley Beside Himself (1943), are mostly about people confronted with the complex absurdities of modern life.
Bibliography: Yates, Norris W., Robert Benchley (1968).
Text Copyright © 1993 Grolier Incorporated


The surest way to make a monkey of a man
is to quote him.

My Ten Years in a Quandary