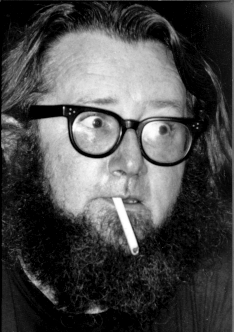 Ted Berrigan

That remids me of the time
I wrote that long piece about a gangster name of "Jr."
O Harry James! had eyes to wander but lacked tongue to praise
so later peed under his art

paused only to lay a sneeze
on Jack Dempsey
asleep with his favorite Horse
--from Bean Spasms





A leading figure of the New York School's second generation, Ted Berrigan was born in Providence, Rhode Island. After three years in the U.S. Army, he finished his college degree and earned a master's degree at the University of Tulsa. It was in Oklahoma that he met pots Ron Padgett and Dick Gallup and artist and poet Joe Brainard, who arrived with Berrigan in New York City as a "Tulsa group." In 1963 he counded C Magazine with Ed Sander's Fuck You: A Magazine of the Arts and Ron Padgett's White Dove Review, one of the more significant little magazines of the period.

Berrigan's Many books of poetry include Many Happy Returns (1969), In the Early Morning Rain (1970), Train Ride (1971), Red Wagon (1976), and Nothing for You (1970), all of which are represented in So Going Around Cities: New & Selected Poems 1958-1979 (1980). A posthumous volume, A Certain Slant of Sunlight, consisting of poems designerd to fit on a series of postcards, appeard in 1988. With Ron Padgett, Berrigan wrote Bean Spasms (1967), a book containing poems by both authors, as well as works written in full collaboration. The fact that non of the poems in Bean Spasms was assigned authorship was consistent with the sixties' challeng both to individual ownership and to a heriarchial concept of authorship.

Berrigan died on July 4, 1983, following years of health problems compounded by amphetamine use. In 1991, Nice to See You: Homage to Ted Berrigan was published, a volume of essays, poems, and reminscences by his many friends recounting Berrigan's widespread influence on poets of his generation.


Quoted at length from Postmodern American Poetry, A Norton Anthology. Copyright © 1994 by W. W. Norton & Company, Inc. Ed. Paul Hoover.