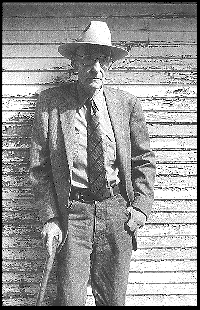 William Burroughs was born on February 5, 1914, in St. Louis, Missouri, the grandson of the inventor of the Burroughs adding machine. After his graduation from Harvard, he lived in Chicago and New York on an income of two hundred dollars a month from his parents. He met Lucien Carr and Allen Ginsberg in New York City around Christmas 1943 shortly after Ginsberg began studying at Columbia, and Burroughs impressed them with his erudition, as well as his sardonic humor and reserved poise. Older than the others in the group, he took on the role of teacher, encouraging Kerouac and Ginsberg in their attempts to write fiction and poetry.
Although Burroughs collaborated on a humorous sketch with a classmate, Kells Elvins, at Harvard and completed a short novel written in the style of Dashiell Hammett with Kerouac, both works were rejected by publishers, and Burroughs did not think of himself as a writer. Instead, his search for an identity led him to deliberately seek out a criminal life.
In the hope that he would feel at home in a "community of outlaws," Burroughs began buying stolen goods, including morphine Syrettes, and became addicted to morphine. In 1947 he began to live with Joan Vollmer, another member of the group around the Columbia campus, and they had a son William S. Burroughs, Jr. Joan was addicted to Benzedrine, and they moved to New Orleans, Texas, and Mexico City where drugs were more easily obtainable.
In the spring of 1950 Burroughs' old Harvard friend Kells Elvins visited him in Mexico City and talked him into writing a factual book about his drug experience as a "memory exercise." Burroughs set himself on a daily schedule, helped by injections of morphine. He finished the project in December, titled his book Junk, and set the manuscript to Lucien Carr in New York. Acting as an agent for both Burroughs and Kerouac. Ginsberg was able to get the book published as a pulp paperback in 1953 under the pseudonym "William Lee" with the lurid subtitle Confessions of an Unredeemed Drug Addict."
On September 6, 1951, Burroughs accidentally killed his wife and was charged in Mexico City with criminal imprudence. His parents took over the care of Billy Junior and brought him to their home in Florida. Released on bail, Burroughs left Mexico and traveled in South America looking for a drug called yage. His letters to Ginsberg describing his experiences in the cities, jungles, and mountains of Ecuador and Peru were collected in his volume later published by City Lights as The Yage Letters (1963), which Burroughs thought would interest readers after the success of Aldous Huxley's The Doors of Perception in 1954.
After Burroughs left South America, he settled in Tangier, where he could live cheaply and obtain the drugs he needed. Burroughs has said that the death of his wife gave him a literary vocation. He felt that he had been possessed by an invader, "the Ugly Spirit," who controlled him at the time of the accident and maneuvered him into a lifelong struggle, "in which I have had no choise except to write my way out."
In February 1957 Kerouac came to visit him in Tangier and began to type the hundreds of handwritten pages of Burroughs' new book that Kerouac titled Naked Lunch. Writing it, Burroughs said he was "shitting out my educated Middlewest background once and for all. It's a matter of catharsis, where I say the most horrible things I can think of. Realize that--the most horrible dirty smily awful niggardliest posture possible. . . ."
Burroughs continued to work on the book until it's publication in 1959, thinking of it as a picaresque novel narrated by an alter ego, "William Lee." As his biographer, Ted Morgan, understood, Burroughs shared Ginberg and Carr's "New Vision" of the writer as an outlaw and creating a "literature of risk." The compression and urgency of Naked Lunch in "the fragmentation of the text is like the discontinutity of the addict's life between fixes. . . . For Burroughs sees addiction as a general condition not limited to drugs. Politics, religion, the family, love, are all forms of addiction. In the post-Bomb society, all the mainstays of the social order have lost their meaning, and bankrupt nation-states are run by 'control addicts.'" Burroughs' essay "Deposition: Testimony Concerning a Sickness." describing an experimental cure for herion addiction developed by a London doctor, was published in the Evergreen Review in 1960.